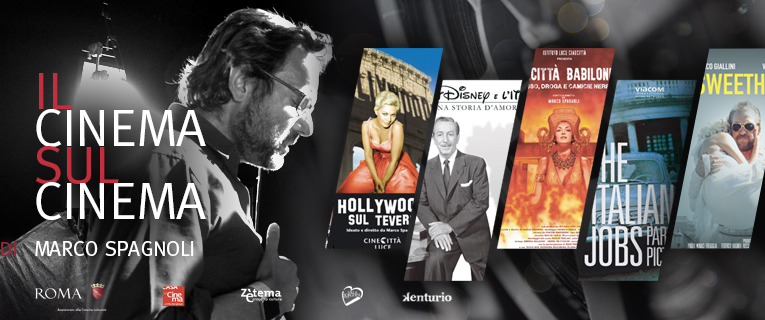 Quattro documentari (Hollywood sul Tevere, Walt Disney e l'Italia: una storia d'amore, Cinecittà Babilonia – Sesso, Droga e Camicie Nere e The Italian Jobs – Paramount Pictures e l'Italia) dedicati al racconto della storia del cinema italiano e americano saranno protagonisti di una rassegna su Marco Spagnoli, giornalista, critico cinematografico, curatore di Festival e di eventi, che nell'ultima decade ha analizzato, tramite i suoi film, il rapporto tra l'America e l'Italia, prodotti e distribuiti da Istituto Luce, Rai Cinema, Paramount Channel, The Walt Disney Company Italia e Nbc Global Networks.
Premiato con un Nastro D'Argento Speciale e un premio Speciale da parte del Sindacato Nazionale Giornalisti Cinematografici e con due nomination al David di Donatello alle spalle, Marco Spagnoli ha collaborato, nel corso del tempo, con i musicisti Pivio & Aldo De Scalzi e Max Di Carlo, i montatori Patrizia Penzo e Jacopo Reale e il Direttore della Fotografia Niccolò Palomba.
I documentari presentati alla Casa del Cinema ogni mercoledì tra il 24 gennaio e il 14 febbraio con repliche la domenica, sono stati presentati, negli anni, ai Festival di Venezia, Roma, San Paolo del Brasile, Ghent e Mar Del Plata.
Il 24 gennaio (con replica il 28 gennaio alle 17,00) verrà proiettato nella Sala Deluxe, alle 18,00, Hollywood sul Tevere, il film di montaggio che lo ha reso noto, sulla storia del cinema americano in Italia, raccontata attraverso le immagini dell'Istituto Luce, con la colonna sonora originale di Pivio & Aldo De Scalzi.
Il 31 gennaio (con replica il 4 febbraio) sarà la volta di Walt Disney e l'Italia – Una storia d'amore, il racconto del legame tra l'Italia e il produttore americano, tramite i materiali di repertorio di Rai e Istituto Luce, mentre il 7 febbraio (in replica l'11 febbraio) è in programma Cinecittà Babilonia – Sesso, Droga e Camicie nere, la storia della nascita di Cinecittà nel 1937 e il sogno hollywoodiano di Mussolini. Il 14 febbraio ( e il 18 febbraio in replica), infine, sarà presentato il cortometraggio Sweetheart, diretto da Marco Spagnoli e scritto da Nicola Guaglianone, con Marco Giallini e Violante Placido, sull'incontro tra Elvis Presley e Marilyn Monroe che è sul punto di suicidarsi lanciandosi da un ponte di Roma.
A seguire il documentario The Italian Jobs – Paramount Pictures e l'Italia, sulle produzioni Paramount in Italia e i due manager hollywoodiani Pilade Levi e Luigi Luraschi.
Antiquariato

Documentari

Festival & Premi

Riviste

Video

Antiquariato

Documentari

Festival & Premi

Riviste

Video

Recent Posts

Archives